Electrolysis offers the most ideal approach to hair removal. Regardless of the specific problem area, electrolysis offers a permanent solution.
WE ARE ELECTROLYSIS SPECIALISTS
Sophia Papadakes is an AEA- American Electrology Association , as well as a Member of PSE- Pennsylvania Society of Electrologist, ensuring you receive the highest-quality electrolysis treatment possible.
OUR FREE CONSULTATION COMMITMENT
Schedule your free initial consultation today, to discuss the best treatment option to fit your needs and your budget. We can completely customize the perfect treatment designed for you.
THE BEST VALUE FOR YOUR MONEY
Say goodbye to spending money on shaving products and paying for waxing treatments. Electrolysis removed unwanted hair, for good. Providing you with the best value possible.
AMERICAN ELECTROLOGY
ASSOCIATION
Sophia Papadakes
2022
Pearl G. Warner, CPE, Pres

Pennsylvania Society of Electrologists
Sophia Papadakes
2022
Joanne Fisher, CPE, Pres

Providing the best option for permanent hair removal
Electrolysis offers permanent hair removal solutions, even if the cause is by heredity, metabolic or hormonal conditions. And regardless of your your hair type, hair color, skin type, skin color, age, gender, stubborn and hard to reach areas, electrolysis will permanently remove unwanted hair to transform you into a glowing, more confident you.
Electrolysis is the only approved FDA method for removing unwanted hairs. Through a small electric current that is transmitted by a fine, sterile probe that is directly placed into the natural opening of the hair follicle to coagulate and to destroy the dermal papilla where the hair begins to grow.
When unwanted hair gets in your way, it may be time to consider electrolysis for permanent hair removal. Let Electrolysis By Papadakes help you achieve your most confident and beautiful you.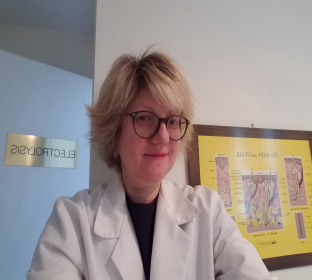 I have been an Electrologist for more than 30 years specializing in Permanent Hair
Removal with a gentle approach. My Mother Pauline Papadakes,  originally began the practice. A member of the A.E.A. & P.S.E..
My location is private and clean. I use sterilized probes, tweezers and use state-of-the-art
equipment. I treat each client according to their individual needs with quality care.
My artistic background enables me to see and to treat the areas so that my clients can
have an enhanced overall natural appearance.
I offer a Free Consultation.
Call for an appointment at (610)-630-1880 or email me at psp.electrolysis@comcast.net
"Sophia is very experienced and knowledgeable about electrolysis. She helped me get rid of unwanted dark facial hair! Best electrolysis in town!"
Sofia DiNardo
Google Review